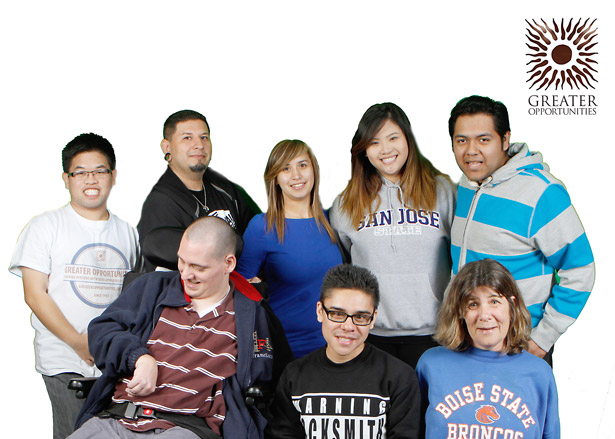 Syryeem was looking for a career where she could make a difference in people's lives. At 22, she says she's lucky to have found one at such a young age. A former dental office receptionist, Syryeem was drawn in by the Greater Opportunities friendly atmosphere. As a caregiver at Greater Opportunities' Day program she says she's found a fulfilling line of work that puts her natural caregiving abilities to good use.
Naturally friendly and always ready with a smile, Syryeem makes a point of communicating with all the clients throughout the day. She has a patient and compassionate way of working with people, and understands the complexities of working with people with developmental disabilities. "You have to spend time with everyone to figure out the best way to interact with each person," says Syryeem. "In the time I've been here, one of the big things I've learned is that sometimes you just need to wait for someone to open up to you on their own time. I've learned you just have to be really friendly, which is easy for me."
There is a special sense of community at the Greater Opportunities Day Program, and Syryeem credits this to the staff's care and attention to clients as well as the integrated approach Greater Opportunities takes when it comes to getting clients involved in activities.
Similarly, one of her favorite things about working at Greater Opportunities is the freedom she has with clients to plan lessons and activities, like trips to the park, the tennis courts, and to volunteer in the community. Because of the freedom she has, she says she's able to come up with a plan for the day according to each person in her group. Syryeem is proud to say that she is a friend to everyone she meets at Greater Opportunities, and she is always willing to help fellow Greater Opportunities staff assist a client in need.
Her work with Greater Opportunities has inspired her to pursue a career in occupational therapy and she splits her time between going to school and working at the Day Program. Although it's a challenge to fit everything in, Syryeem says it's worth the hard work. She says it's an interesting place to work because something new is always happening, but at the same time it maintains a calm and relaxing atmosphere. She's so exited about spending time with clients that she says "It doesn't feel like a job at all!"
Contact Us
900 Lafayette St., Suite 700
Santa Clara, CA 95050
Phone: (408) 248-4464
Fax: (408) 248-1221