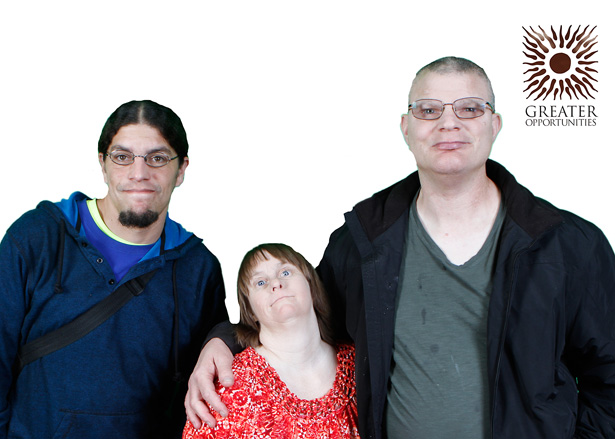 Brandon is a naturally caring person, which makes him good at his job at Greater Opportunities, where he teaches classes and leads group activities for developmentally disabled adults. He's passionate about his work, "I want to see everyone do well and succeed at whatever they want to do." He is attentive and conscientious, and he has a lot to say about the people he works with. Brandon works closely with each person to discover their passions and develop their talents, and as clients' skills progress, Brandon is quick to augment lessons in order to challenge people to improve – one of the hallmarks of a good teacher.
One of his favorite things to do is play card games with clients to engage their minds in ways that they may normally be unable to because of their disabilities. He's found that sometimes something as simple as a card game motivates people to be more open and try new things. He says, "I worked with a client, Margie, who had a hard time finding things she wanted to do. I introduced her to two different card games and now she loves playing them with me. Everyday I play cards with her for an hour, even if she's not assigned to my group that day. " He says Margie has come a long way, and is now willing to participate in other activities at the Day Program.
Brandon often works with Barbara, an older woman with a disability that impairs her verbal communication skills. Barbara says she likes computers, playing Wii games, and is an avid bowler. She's a member of the board at the San Andreas Regional Center, where she helps to come up with new ways to provide services for people with disabilities. She loves playing the piano, and Brandon is teaching her all about melodies and the technicalities of the keyboard. She has been learning to play one of her favorite songs, Scarborough Fair by Simon and Garfunkel, and says she practices a little bit every day to get better. Brandon, a musician, says Barbara has come a long way with her piano skills, and she is getting a hang of the numerous, complex finger movements necessary for playing the piano.
In addition, Barbara is fascinated by the colors and textures she can create when she paints in art class, and loves to immerse herself in art projects. Barbara also loves to volunteer, and one of her long-term goals is to get a paying job. Barbara loves the new Day Program building and says they now have more resources available to them such as an art room, music room, a big kitchen, and a computer room. Both Barbara and Brandon are happy to be a part of the Greater Opportunities community.
Contact Us
900 Lafayette St., Suite 700
Santa Clara, CA 95050
Phone: (408) 248-4464
Fax: (408) 248-1221