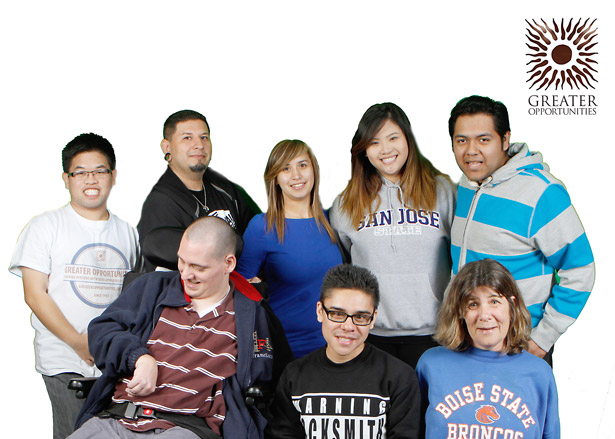 It's a story that's all too common: two young people with developmental disabilities have just finished high school, and without any place to go, they're confined to their homes, lonely and unfulfilled. For Eric and Ezekiel, who both live with developmental disabilities that effect their cognitive skills and ability to communicate verbally, the Greater Opportunities' Day Program provides an opportunity to make friends and participate in the community in ways they wouldn't be able to otherwise. At a young age, they're learning important social skills and gaining the tools to build fulfilling and independent lives. Eric and Ezekiel love the community at the Day Program, and their friendly, easygoing personalities fit right in.
Eric, who lives at home with his parents, has been coming to the Greater Opportunities Day program since October 2014. Before coming to the Day Program, he says he stayed at home with his parents all day, which was lonely and unfulfilling. He says he loves meeting new people and has become friends with many staff members, "I've bonded with all the staff members here. I just like hanging out with everyone, and I'm happy that I have people to hang out with on the weekends." Sharp and observant, Eric says it's helpful to have staff members who are his age, and that many people who face developmental challenges don't have ways to meet new people and make friends.
Ezekiel, who also lives at home, graduated high school in 2011. When he arrives at the Day Program every morning he is excited to see everyone, "All the staff greet me and ask how I'm doing. My favorite staff member is Syryeem. She always asks how my day is going and makes me laugh."
Syryeem is a new staff member at the Greater Opportunities Day Program, and she has been working closely with Eric and Ezekiel. The three of them are similar in age, so they relate to each other and have formed a special friendship, "I've gotten to know both Eric and Ezekiel really well. They express themselves in different ways. I learned that Eric could speak a little Tagalog. Eric is very talkative, while it takes Ezekiel more time to open up. But once you get to know Ezekiel you find out he's a really good kid and he'll tell you a lot about himself." Once you get to know them, Eric and Ezekiel are always up for a conversation, and both make a point of talking to everyone to help people feel included.
Along with playing games, taking art, cooking, and music classes, both Eric and Ezekiel love volunteering in the community. Volunteering provides another opportunity for meeting people and learning new skills. Ezekiel says he likes to help people because he enjoys thinking about others. Eric says that volunteering has helped combat his shyness, which has held him back in the past, "Before coming to the day program I stayed at home and didn't do anything. I had anxiety and wouldn't want to talk to anyone. Now I can talk to everyone!" In agreement, Syryeem says that Eric is now a social butterfly, and she, Eric, and Ezekiel have a great time together every day.