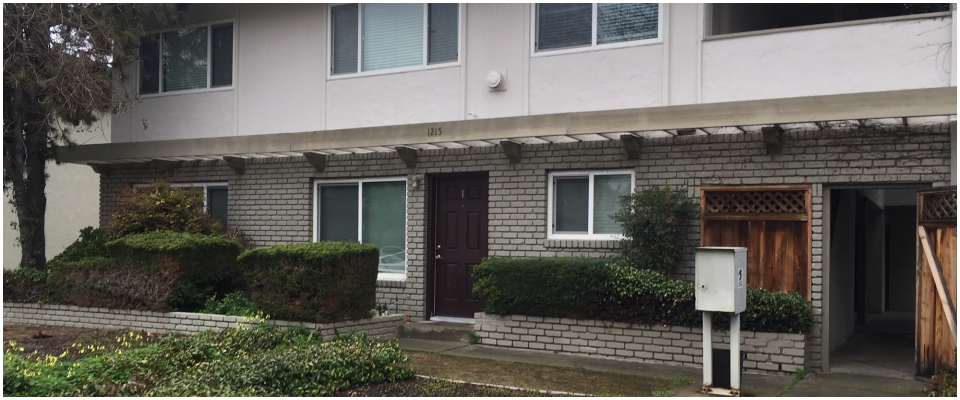 At the Cortez Apartments
At the Cortez Transitional Housing Program, clients live in a supportive and friendly community while developing skills necessary for independence. The Cortez Apartments are an invaluable asset to those working towards gaining independence. Here, clients are able to live independently and work one-on-one with staff members daily to manage their homes.
Gift of a Safe, Clean Home
Our clients have safe, clean homes to return to every night at the Cortez Apartments. We work hard to maintain the buildings and grounds at the Cortez Apartments to provide a safe and inviting community in which our clients are able to thrive. Volunteers and supplies are needed for painting and building repairs at the Cortez Transitional Housing Program.
Gift of Sunshine and Green Grass
In addition, the outdoor patios and garden at the Cortez Apartments are a wonderful place for clients to have picnics and socialize. People need a place to sit in the sun, have lunch outside, and feel the earth below their feet. Being able to enjoy the beautiful weather we're accustomed to in Sunnyvale is a way for clients not only to feel connected with each other but also with the greater community. Volunteers, tools, and supplies are needed to maintain the landscaping at the Cortez Apartments.
At the Day Program
The Greater Opportunities Day Program at the Adult Development and Activities Center provides classes and activities in a variety of subjects. During classes in art, cooking, music, and computer technology, our staff shares their unique skills with clients, catering to each individual's needs and capabilities. The Day Program enriches lives, helps build lasting physical and mental skills, and provides an opportunity to make lifelong friends.
Gift of Community and Togetherness
The Day Program provides community, support and fellowship for our clients who often experience isolation elsewhere in their lives. Clients build friendships, a sense of belongingness, and social relationship skills by learning, working and playing together in guided group activities. Our incredible staff and volunteers build and nurture the community, bringing a wide variety of skills and talents to share, and our clients love learning new activities and practicing new skills. We welcome volunteers to help instruct and guide clients in art, crafts, computer skills, music, volunteer work, cooking, sports and fitness activities both in the center and in the community. In as little as one hour a week over the course of several months you can have a huge impact on so many lives. To learn more and become a volunteer, contact us.
One of the many important services we provide our clients at the Day Program is safe, reliable transportation to and from the volunteer trips and off-site activities during the day. All of our clients love volunteering in the community. They have big hearts and love to see the positive impact they can make when they volunteer at places such as Meals on Wheels, RAFT, and the local churches. In addition, we also provide transportation to many offsite activities during the day on field trips to national parks, the boardwalk, and the local bowling alley, to name a few. To ensure that we are able to provide our consumers with valuable, enriching experiences to last a lifetime, we need safe and reliable transportation. A donation of a van or small bus will help ensure that we can always get our clients where they need to go.
Items Needed
Pots & Pans
Office chairs
Van/Prius
First Aid kits
Gas cards
Art supplies
Jobs
Clothing – New
Gym memberships
Transit passes
Food – especially protein & veggies
Event tickets
Musical instruments – bass guitar
Mini Ipads
Netbooks
Printers
Video camera
Cleaning supplies
Office supplies
To learn more about how you can volunteer or fulfill an item on our wish list, please contact us!
900 Lafayette St., Suite 700 Santa Clara, CA 95050
Phone: (408) 248-4464
Fax: (408) 248-1221