Roger is a hard-working man. Currently, he works at South Bay Honda, a job he landed through Greater Opportunities. He came to the center to pick up some reading, math and job skills. In addition to that, Greater Opportunities helped him live independently for the first time.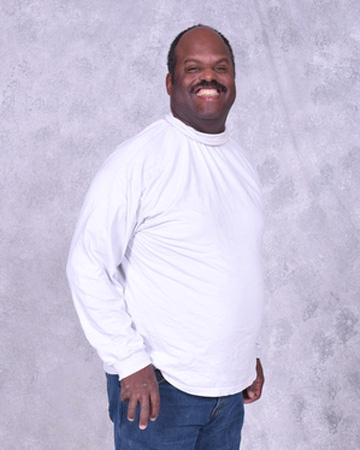 "I am excited," he said of the big move. He's 48, and it's exciting and invigorating for him to cook, clean, and shop for himself for the first time in his life.
"I'm getting muscles," he said. "I exercise at my apartment. Push-ups, sit-ups, the whole nine yards." A veteran of Special Olympics, he loves the physical activities that Greater Opportunities offers its clients.
The Day Program also has helped him learn some cooking skills.
A charming and friendly person, Roger claims he has made forty or fifty friends at Greater Opportunities. His goal is to continue his job at South Bay Honda, and develop increasing independence in his living situation.
Roger takes daily classes in skills of independent living at Greater Opportunities' Cortez Program in Sunnyvale. He happily shares household duties in his two bedroom apartment with his roommate Daniel. His long-term goal is to move to an apartment in Sunnyvale.
"So far, I'm doing real good working toward that goal," he said.
South Bay Honda is one of the largest Honda dealerships in California, and their Service and Parts Director, Brian Keegan, is a big believer in Greater Opportunities. Such a big believer he has hired four Greater Opportunities clients as staff members in his parts department.
It was a perfect solution to a problem that bedevils many employers in the South Bay area: finding entry-level workers. "In dealerships, we always seem to be one or two people short and there's always projects going on," he said. "'And in our market, it's more and more challenging to find good people."
One of Keegan's customers is a staff member at Greater Opportunities. "She put a bug in my ear, and I thought is was a good way to do some good." So he hired three Greater Opportunities clients to start working in his Parts Department.
"We've got them all over the dealership," he said. "They go in slow and easy, two hours a day on Thursday and Friday. My goal is to have them involved with our employees and customers."
"We're still in the early phases of feeling each other out, and my goal is see if they can pick up some more hours and maybe even go full-time."
Keegan right now has them cleaning the parking lot, cleaning windows, getting them used to the process of dealing with a busy auto dealership. After that, Keegan moved them in the Parts Department doing inventory, and eventually having them check in new cars.
"We've got so many projects that never seem to get done and I never seem to have enough people," he said. With an unemployment rate as low as 2% in the South Bay, it's tough to find workers. "I've talked to a lot of customers who run small businesses and they say the same thing. It's hard to find good people."
The employees he has hired from Greater Opportunities have proven to be a perfect fit for him.
"They're very high-functioning," he said. "They all have their own strengths and weaknesses, but all three work really, really hard."
Keegan's goal is to have at least several of the Greater Opportunities workers join the staff full time, unsupervised employees. He believes they could be very good customer-facing employees, especially as greeters.
"I think they would work well in any number of business," he said. "They can do anything anyone else does."
"Any customer-facing retail operation would benefit," he said. "I'm overall very impressed with them."